Chaco Canyon
COURAGEndures is proud to offer hand-crafted and all-inclusive guided experiences highlighting adventure, art, culture, and heritage across the West. Through movement and community, we introduce our guests to the people and their stories, the history and their voices behind it, the cultural sites and the traditions, as well as an insight to the diversity of adventurous landscape and natural wonders. One place that embodies all we are and seek to be, is the awe-inspiring Chaco Canyon.
We've been preparing for your visit for over 1,000 years
Did you know the U.S. has a pre-historic Puebloan place of mystery that has been likened to Macchu Picchu, which is little seen or visited? And did you know that like Stonehenge, these ancient structures mark the passage of the sun with precise solar rays aligning along relief figures, doorways and petroglyphs on stone slab walls?
Transport yourself into another world, at Chaco Canyon!
This UNESCO World Heritage Site and National Park lies on top of the southeastern Colorado Plateau's physiographic province in the San Juan Basin and had a diverse thriving culture from 830 A.D. to 1250 A.D. It served as the heart of spiritual and ceremonial practices for the Chacoan people.
After 250 years in this unforgiving landscape, most moved north, leaving the monumental sandstone buildings and kivas. Finally, after decades of drought and fighting over scraps, everyone else left. We don't know exactly why - they left no written language.
couragendures offers Two unique Experiences for One of the most spectacular spots in the world
We offer two distinct options to experience the power, mystic, and natural splendor of Chaco Canyon.
Hotel Basecamp with Guided Photography

Glamping Basecamp with Guided Hiking
Hotel Basecamp with Guided Photography
Ten lucky photographers will explore and shoot these spectacular ruins, with professional guidance to the best locations.
The first day will be an introduction to spectacular Chacoan Great House ruins. Get close to Pueblo Bonito, Chetro Ketl, Kin Kletso, Casa Rinconada's Great Kiva, and Chacoan petroglyphs on your first day.
On day two, hike Chaco's South Gap and ascend South Mesa. The trail winds gradually towards Tsin Kletzin, a rare Great House ruin south of Chaco Wash. Finish with a high view of Casa Rinconada's Great Kiva aiming north to Pueblo Bonito and Pueblo New Alto.
Our basecamp is Bloomfield's highly-rated Best Western Territorial Inn & Suites.
Tour Includes –
Before-tour meeting for gear suggestions, directions, and expected conditions.

Recent archeological thinking on site history

Guiding to the best viewpoints for photography

Professional techniques and shooting suggestions

Professional critique of your best pictures

Suggestions for high-quality lodging and restaurants
If you are interested in dates and more details, please sign up here:
Glamping Basecamp with Guided Trekking
Glamping is our new passion because it combines remote outdoor experiences, with luxurious camping facilities, so you do not have to forsake pleasure and comfort while experiencing the great, but hard to reach, outdoor locations.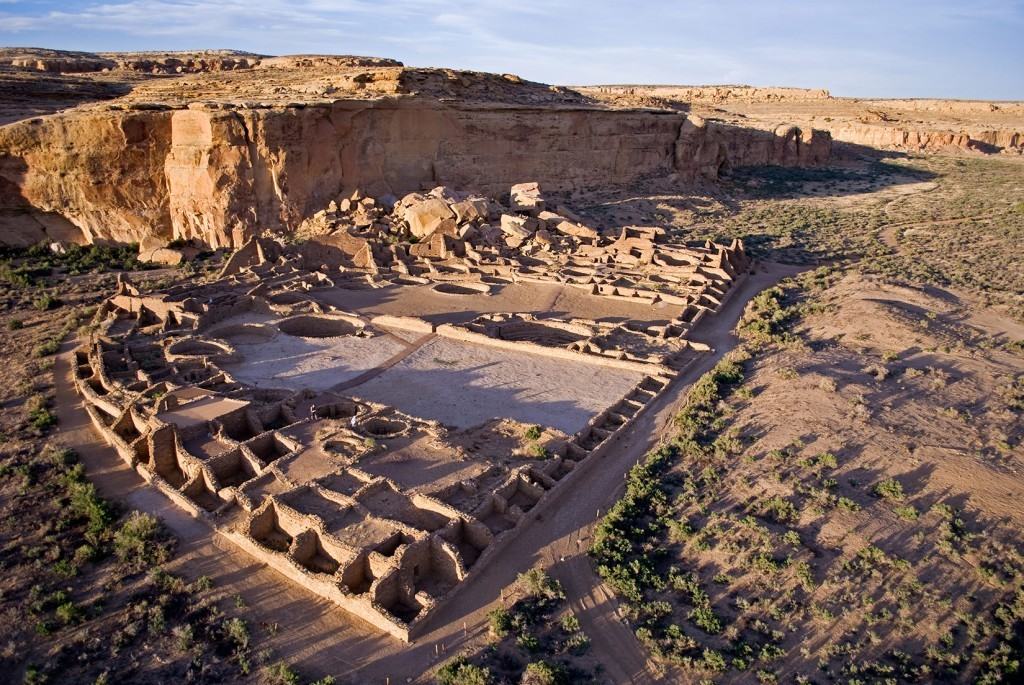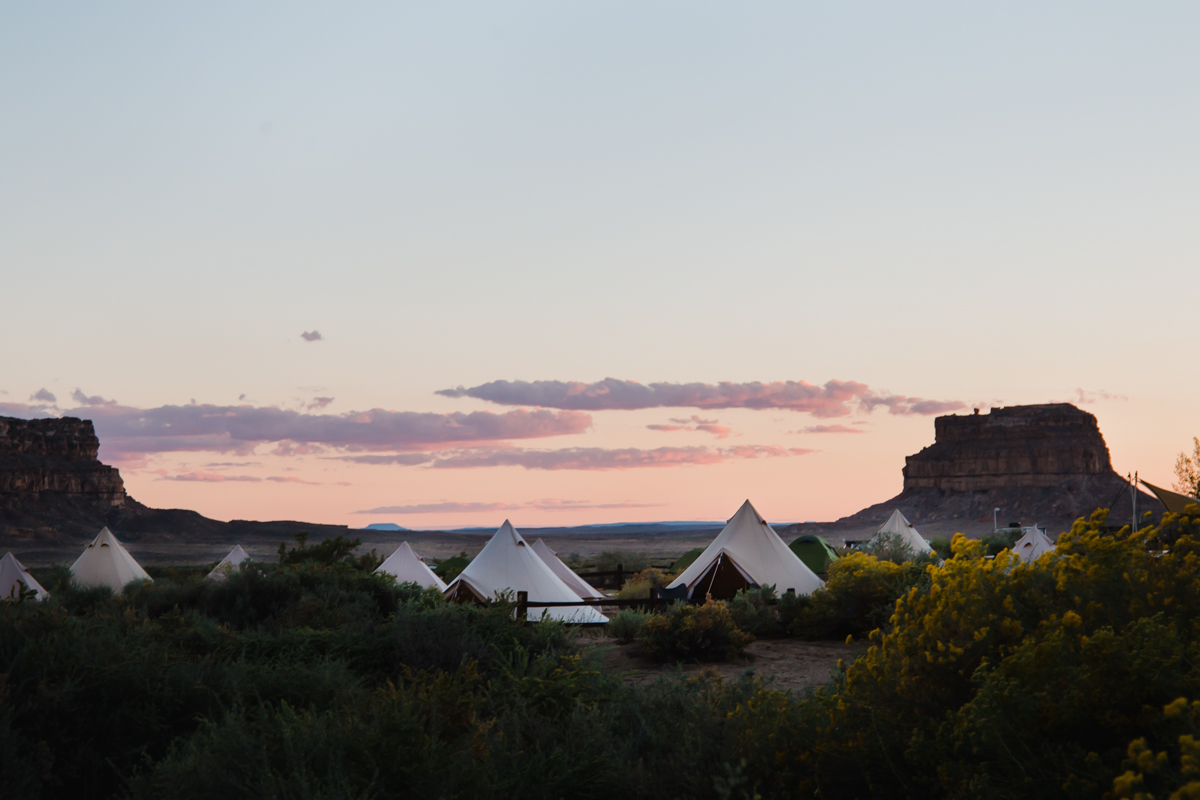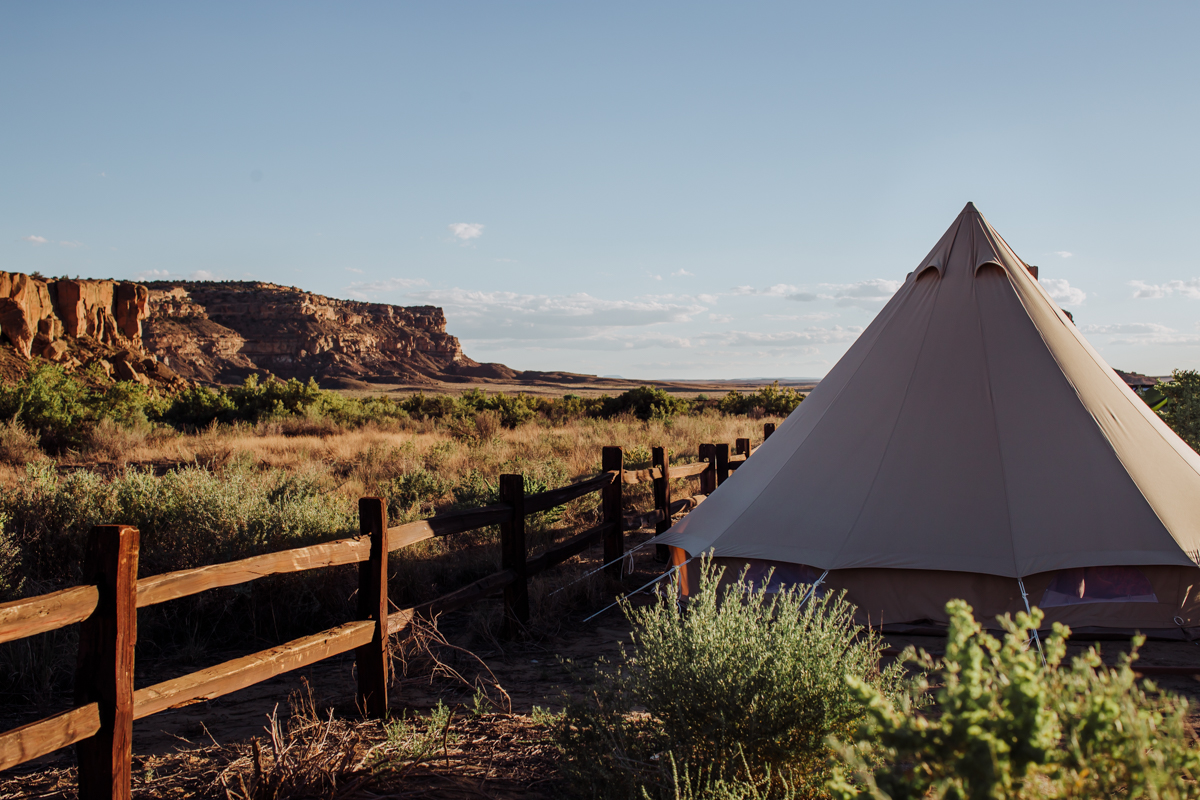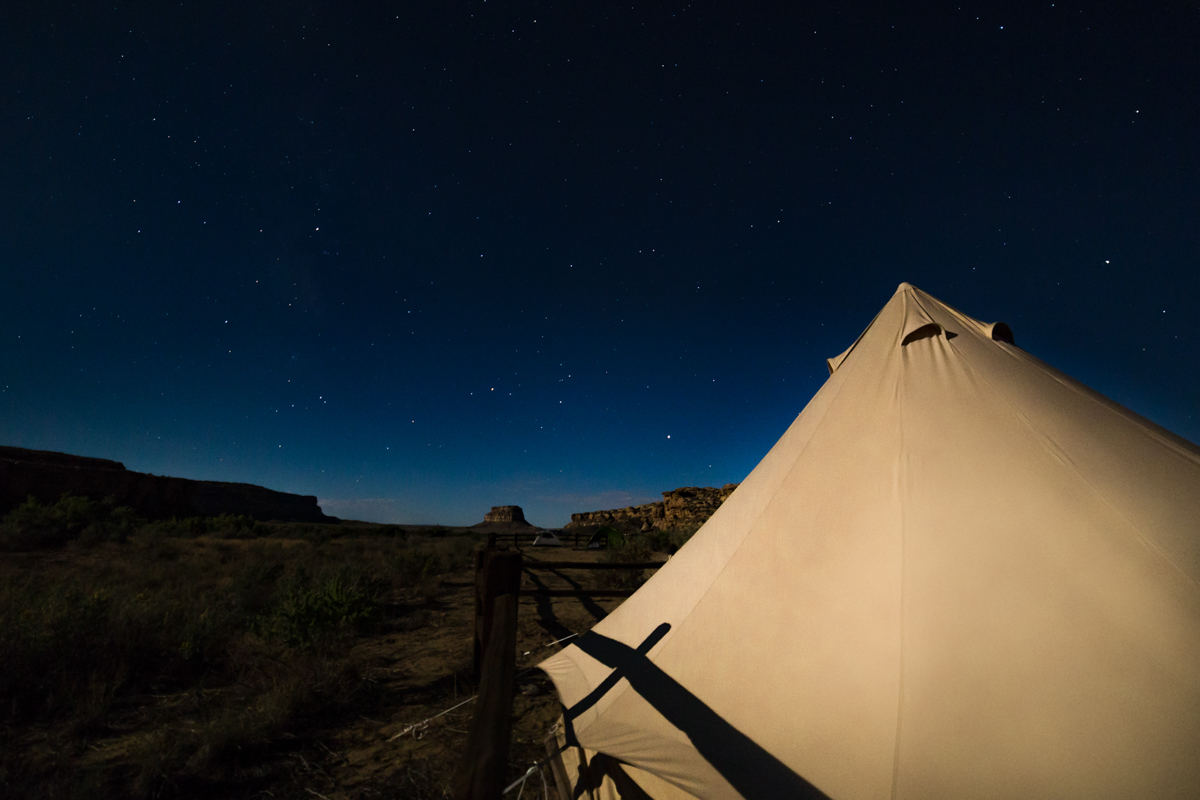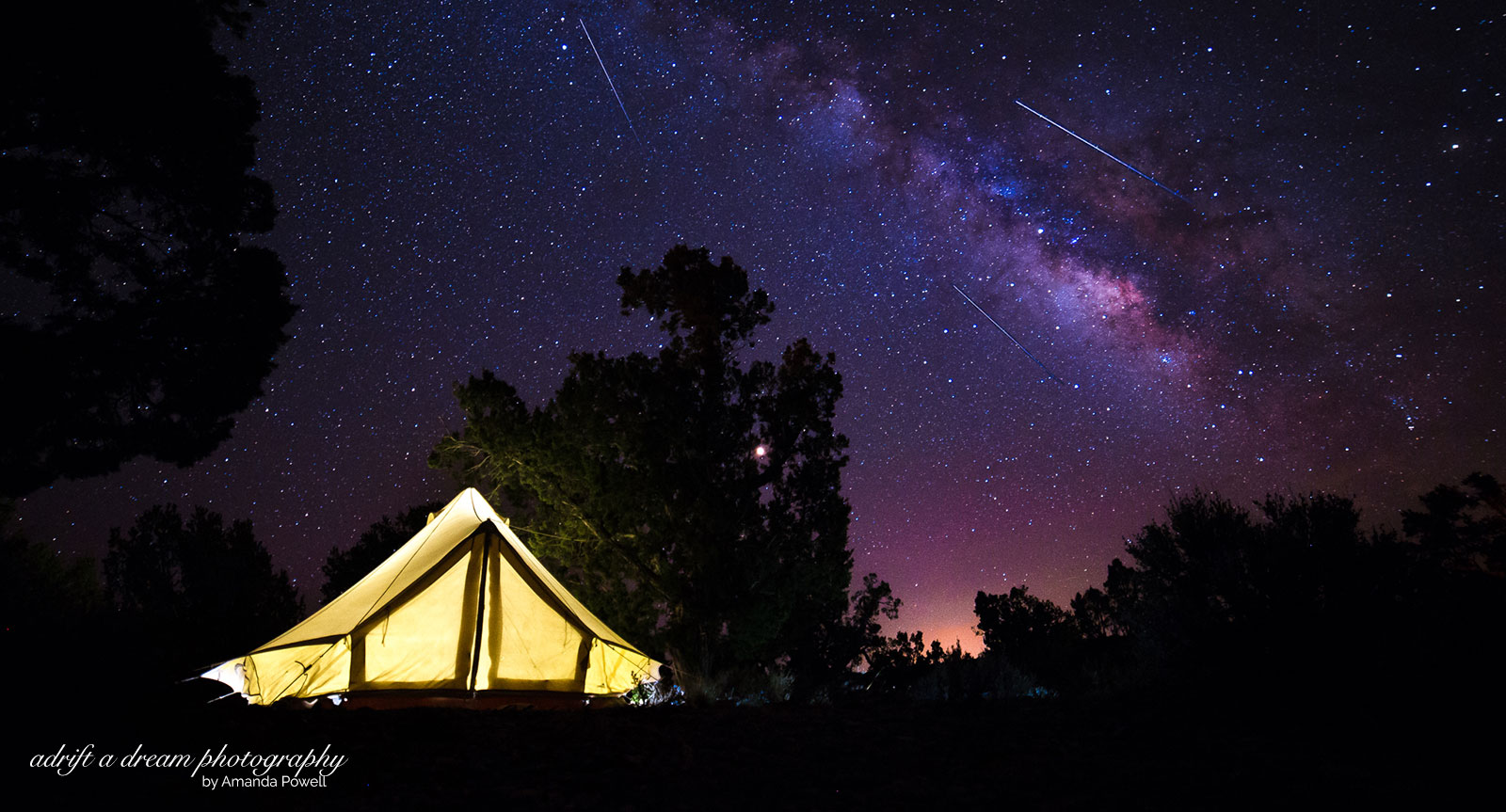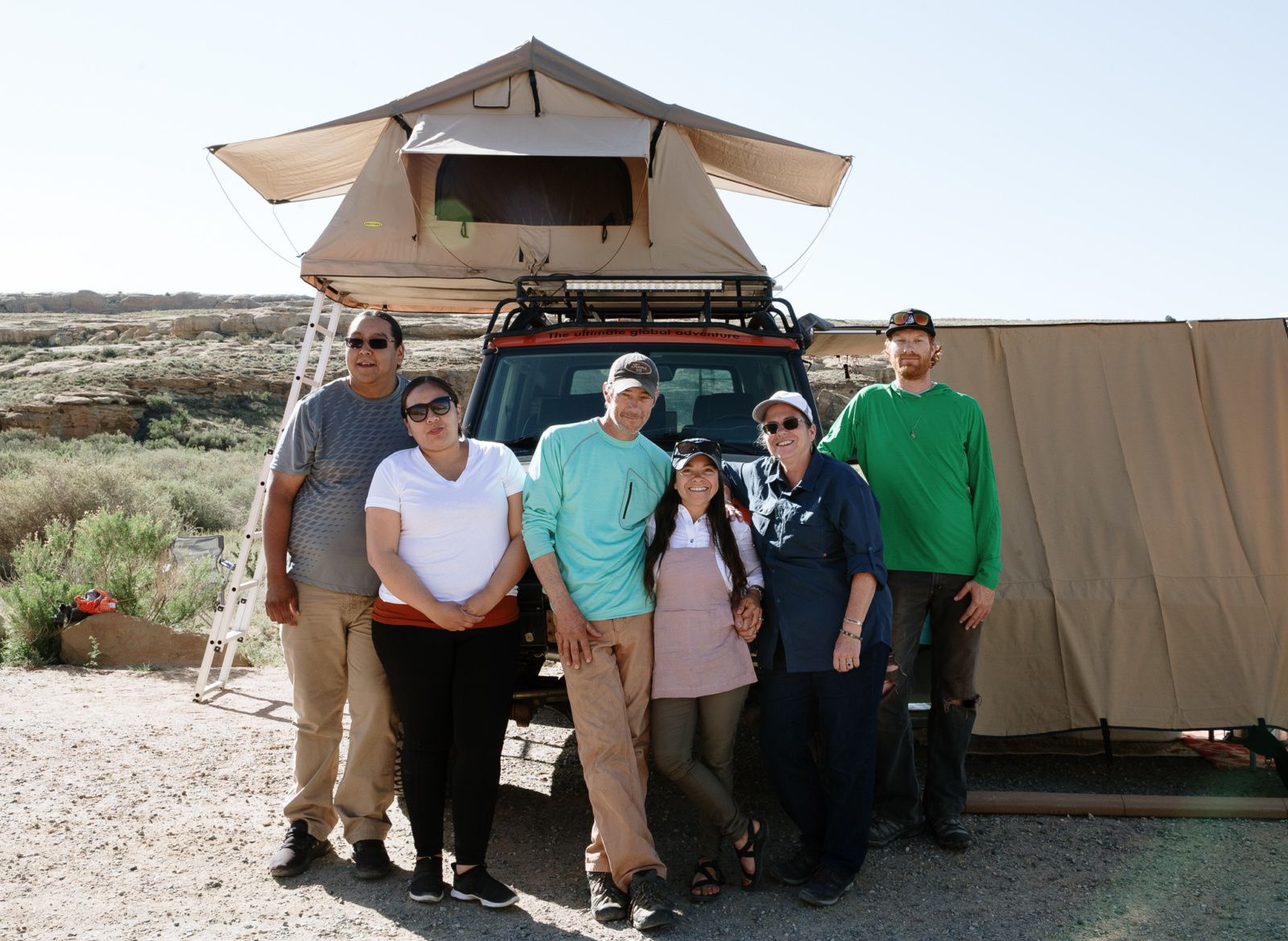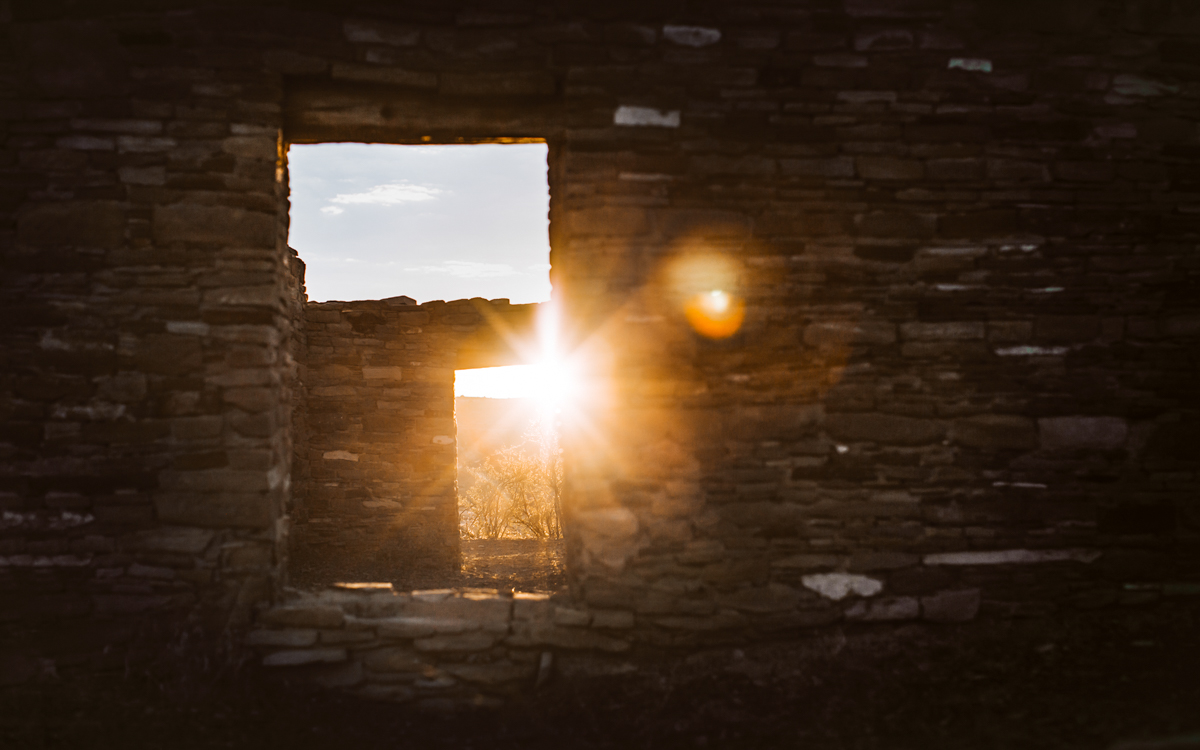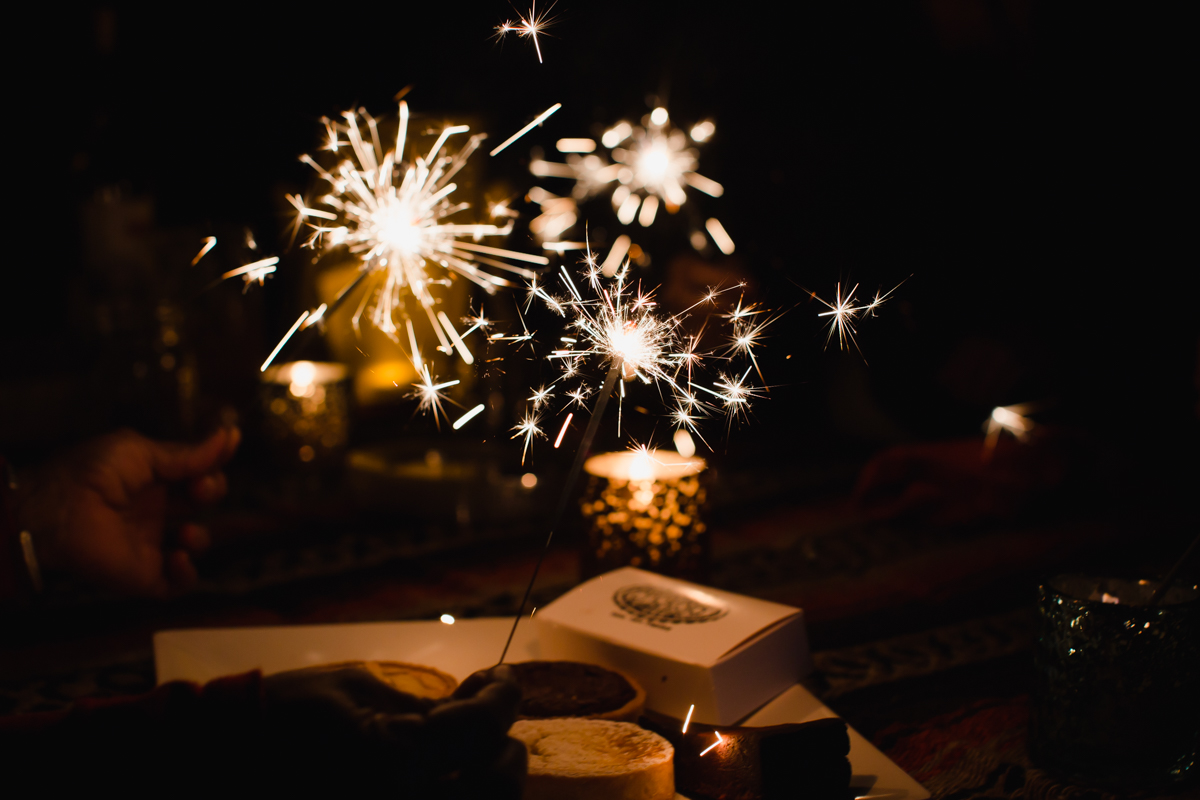 It's a way to experience the untamed and completely unique parts of the world, like in Chaco Canyon, without having to sacrifice creature comforts.
You can enjoy a fusion of glamour and camping, glamping, while authentically experiencing the most awe-inspiring night sky of the high-desert in a spacious canvas tent, with non-camplike amenities, such as a raised wooden bed-frame, memory foam pad bedding, bedside table, butterfly canvas chairs, plush rugs and southwest textiles.
Glamping in luxury while meditating on ancient Puebloan architecture and culture and savoring the views from your tent at Fajada Butte – it can't get much better than that!
Chaco Canyon: Glamping Basecamp
Experience this major ancestral Puebloan center of migration, grand construction, and cultural integration by glamping overnight within Chaco Canyon's majestic boundaries. Explore the Great Houses, hike connecting trails, witness celestial events, and enjoy a non-light polluted sky. Dive deep into the mysteries of Chaco and get an in-depth perspective without forsaking comforts, with this luxurious journey.
Equinox Experiences
There are many solstice and equinox markers at Chaco Canyon, demonstrating that the people of Chaco incorporated celestial movements into a variety of their architecture, their art and their culture. You'll discover how these alignments indicate the people possessed a well-developed knowledge of astronomy and its relationship to the seasons.
Chacoans had such advanced astronomical knowledge, and they used it to carefully align their great houses with the sun, presumably to witness indications of important calendar dates. We'll observe light stream through two perfectly aligned east/west doors at Casa Rinconada, the largest kiva in Chaco. Only two times per year, during equinoxes, does the sunlight pierce through the center of these two doorways, thereby showing how the careful structural construction and the planned interplay of light and shadow, functioned as a calendrical marker for the Chacoan people.
For more information on our Glamping & Equinox Experiences, please sign up below: